We're officially living in our house!! Saturday we had some friends come and help us pack up a 17 ft. Uhaul and unpack it. We were very lucky to have some brawny guys and some tetris masters among the moving crew, and we got it almost all in one go. The boys decided to go back for a few odds and sods once they'd unloaded almost everything- but for the most part, we got out in one trip!
After we packed up the truck I ran out for pizza and beer, and by time I got to the house the entire truck had already been unloaded! DAMN they were fast!! Lots of pizza and beer was consumed, and my dear friend helped me unpack the kitchen (the most important room in the house!!) I can't thank her enough- having just that one room in order has made settling in so much easier.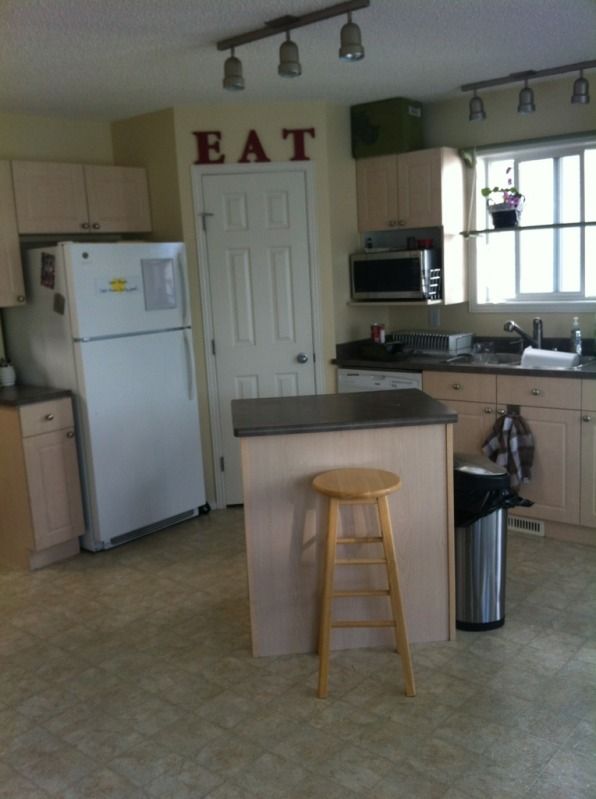 Sunday Hubsbeast went and handed the keys to the apartment back to our landlord (officially not our problem anymore!) while I called Shaw repeatedly to try and get our cable services hooked up (apparently their website booking service does not in fact work.) Then he came back and we got our bedroom in a not-so-disastrous state. It's not perfect yet, but it's serviceable for now!!
The rest of the house is still in total disarray. We're ordering our new entertainment unit this week so we can start getting the livingroom together (I still need to find a decently priced huge rug for this room too!) The bathrooms kind of look like a bomb's gone off in them too. All in good time...all in good time.
As I said in my last post, paint is the priority in this house. We can't live here long without it. Ugly is demoralizing. I've pretty much decided on the paint colours for the kitchen and livingroom/front entrance/stairwell/ upstairs hallway (they're all connected, so they'll all be the same colour.) That will pretty much take care of the main floor- all that would be left is the half bath off the kitchen, but I can't decide if I want to re-use the colour from the livingroom, or if I want to use something totally different. We'll see.
Something else I'm starting to look at is our options for replacing the ugly ugly stairs.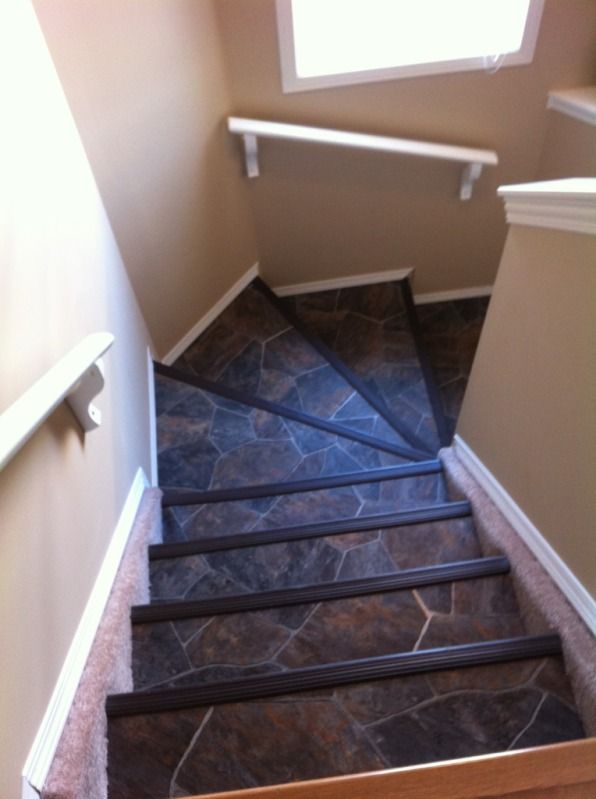 Yeah. Gross, right? I have no idea what the previous owners were thinking, but it was a bad, horrible, wrong thought. I've started getting quotes for redoing them in different ways. False treads, carpet, and laminate install are all options. We've just got to pick the one that's the most budget-conscious for us.
I love having a house!!