Okay, so part of getting a new house is buying new stuff, right?!
We needed a few things ASAP that we didn't have in the old house:
1- A lawnmower. The previous owners of our house had clearly not cut the lawn the week they moved out, and it'd been a week since we'd taken possession. We were in a condo apartment before, so we didn't have a lawnmower. Hubsbeast determined the best engine for our needs, and then went and price-compared all the different brands that engine was sold under. We ended up with a Brute mower from Walmart. Hubsbeast really likes it. And now we don't look like the worst house on the block anymore.
2- A patio set. All we had on our balcony at the old apartment was a bistro set, which looked really sad on our big beautiful deck. After much consideration (since we found out the house was ours!) we decided that we rarely had large groups of people over for food outside, and when we do it's generally burgers and hotdogs- nothing fancy. So we didn't really need a table with six chairs, because the occasions were we'd actually use it were few and far between. So we decided we'd prefer one of those outdoor sectionals. We found one that suited our space and our budget at WalMart- the Provence set. We love it! And we used Hubs' PC points to get a market umbrella and stand at Superstore. The browns don't match exactly, but I'm hoping I can find some outdoor pillows to tie everything together.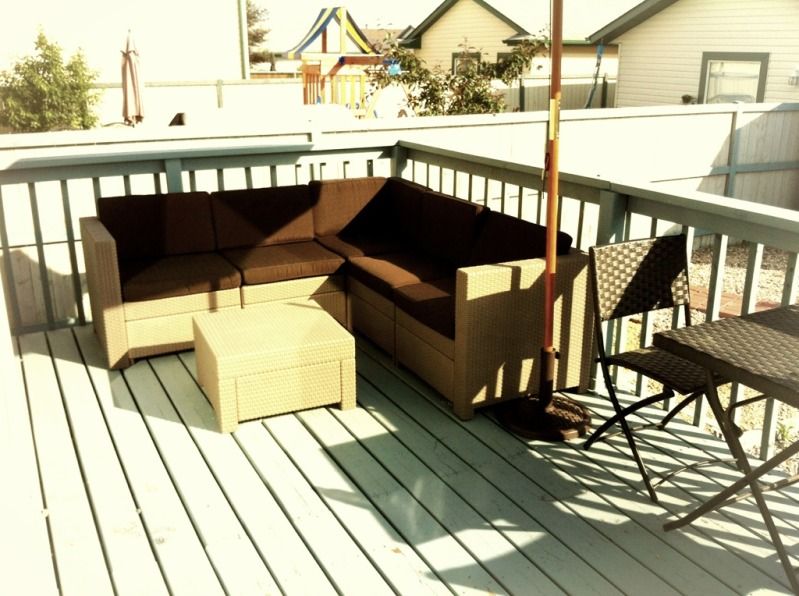 3- We head to Costco and got some basic essentials. A rack to dry clothing on, some flashlights to stash around the house, a BBQ cover, and some other odds and sods that we needed.
We spent a boatload today! But all on essentials. And our house looks so much better because of it. We had our first guests over for dinner tonight and it was so great to be able to hang out on the deck!!
Tomorrow I'll write about one of our first DIYs in the house: replacing the register covers. GROSS!!