They're DONE!!!
We finally did it! We got them done!! Just three hours before I had to drop my Mommy off at the airport for her to fly home :( I'm going to miss her so much- there's no way I could have ever done this without her and it was so great to have her here to troubleshoot and share the workload and even just chat with while we worked. I felt really badly that we were working until the 11th hour, but I treated her to a gel manicure afterwards so hopefully she'll forgive me.
So last time I told you about the stairs we'd just papered them. And then we took a break from them to paint and do baseboards. Well- I say "we" lightly. I was a support trade- my Mom did almost all the painting, and she did the bulk of the baseboard cuts since my proficiency with a mitre saw was nil. I ran around getting pencils and remembering numbers and doing what I could to try and help it go smoothly.
So once all that was done we finally got around to staining the stairs. First we tried to fix some spots that got a bit ripped up while we did the walls.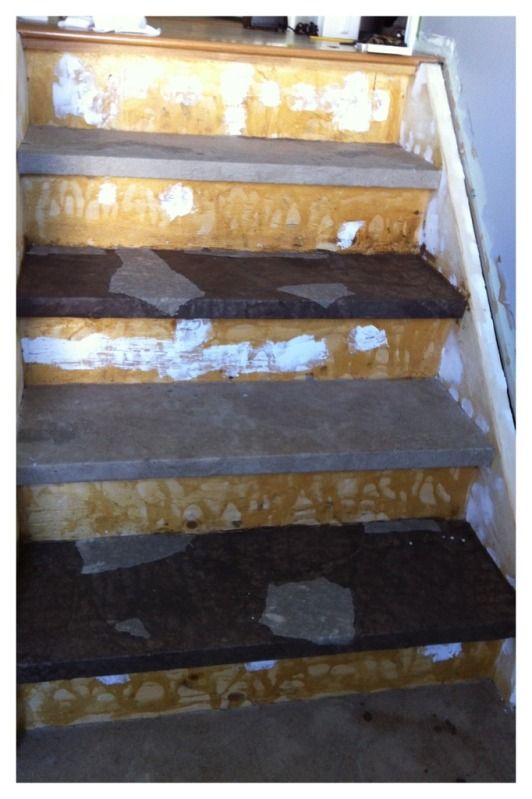 The stairs with patches on them.
Hard learned lesson: straight glue does not absorb stain. We tried to glue some patches down with straight white glue- which worked- but then when we stained the patches were painfully obvious, because the stain wouldn't absorb. I'll admit it: there's no pictures because I was freaking out- it's not something I wanted commemorated. But once again my Mom came to the rescue: she suggested that if we stippled on some acrylic paint in a similar colour nobody would be the wiser. So we stopped at Michaels and picked up some Folkart paint in Raw Umber and stippled it on. You really can't tell. Crisis averted.
Stained stairs with paint used to blend in some of the patches. Can you tell where?
The stain was applied using one of the dollar store brushes we used to apply the glue and paper in the first place. Once it was on and looking even we went ahead and applied 3 coats of poly. We used the MinWax Oil-Modified Waterbased Poly- and it's working really well. It doesn't smell bad and it's super easy to clean up.
Then it was on with the baseboards and the risers!! Mom attached baseboard while I cut and attached paintable wallpaper to plywood risers.
While looking for riser options we considered getting panelling and cutting it to size- but it was expensive!! 30$ for one sheet that would only get us four risers. And we'd need a saw to cut it. Then I remembered seeing a post on Pinterest about how someone had used textured paintable wallpaper to cover up their risers. I loved the idea, but Hubs is what some would call stringent in his desire for no "frillies". And something told me that no matter how much I liked the look of it, if I put herringbone or damask on the risers he'd have my head. But! I found this:
Except that no matter how nicely I trimmed the paper, there was still a gap at either end.
Last step: caulk. There was a gap between the stringers and the paper treatment- and no matter what we did we couldn't close it. When the paper dries, it shrinks. So we decided the best solution would be caulk. They sell brown caulk for windows and doors at Home Depot- so we got a tube of that.
Ready? You're going to lay an egg when you see the difference.