Hello! I know I haven't posted in about a year- but it's been a BUSY year! Since last August we've painted the kitchen and cabinets (still waiting on our new floor), painted our guest room, painted our nursery (that's right- I'm seven months pregnant!), and finally FINALLY redoing the main bathroom. I'll get to everything else soon- I promise- but today I want to talk about my new bathroom.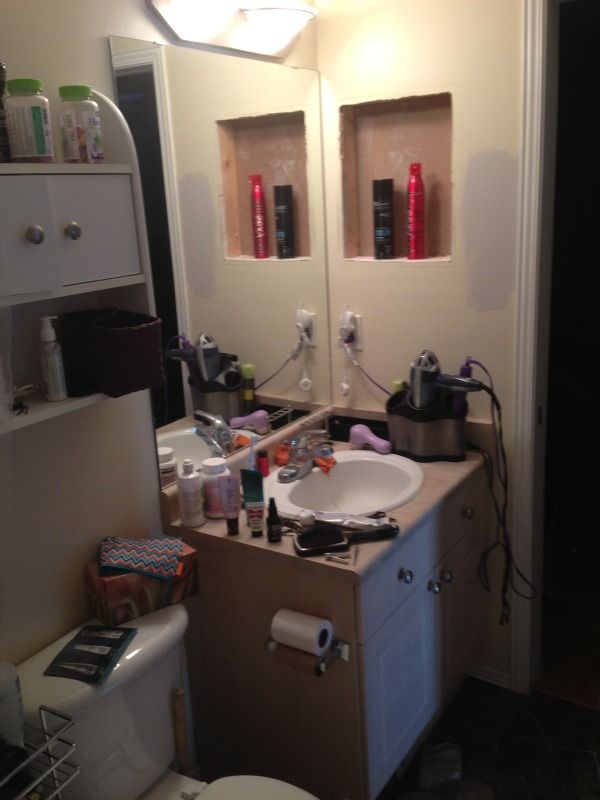 SO. MUCH. CLUTTER.
So- our house has only one full bath. There's a powder room on the main floor (thank god) but we've only got the one shower/tub. Because Hubsbeast tends to wake up with the birds, showers at night, and doesn't want to disturb me (bless him)- he tends to use the powder room for his man-grooming and the full bath has become "my" bathroom.
Now the previous owners had three boys and two adults using this bathroom. As a result they seemed to just try and fix issues like lack of storage with the quickest and cheapest possible way. Unfortunately, that way was not functional at all. Observe: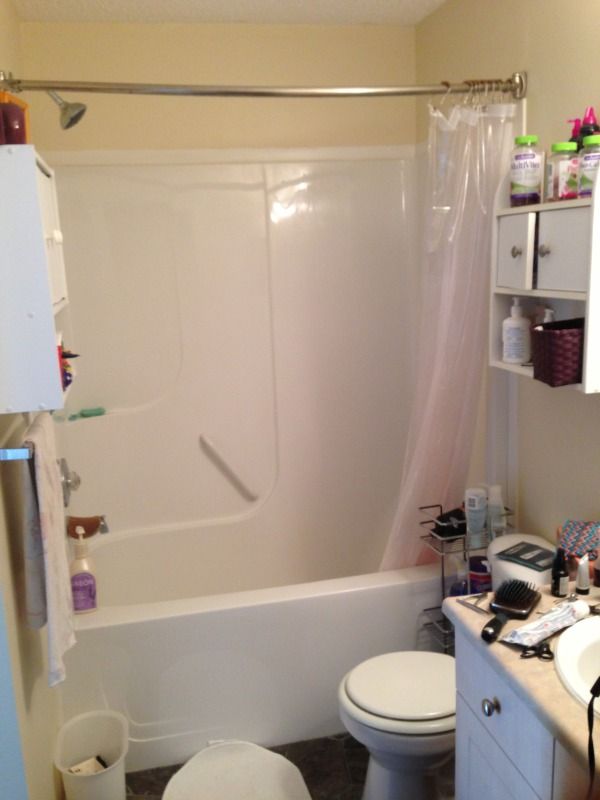 What "my" bathroom looked like on a regular basis.
So in that first photo you see the vanity. That hole in the wall holding my hair products used to be a recessed medicine cabinet which was the ugliest, most useless cabinet ever known to man. I didn't even take a picture of it before I tore it out of the wall. It was mirrored, which was annoying being perpendicular to the big mirror. It also had fixed moulded shelves which fit absolutely nothing of substance. In fact, when I went to pull it out- a year after we moved into the house- there was absolutely nothing in it. That's how useless it was. And if you look at the counter top clearly I was hurting for accessible storage.
In the second photo you see our toilet/bathtub situation. Our bathroom is a very tight L shape- and those two itty bitty cabinets that were on the wall made the walls come in on either side of you and made it feel even tighter. And again, they didn't fit anything!! There was nowhere to hang our towels but that little towel bar squeezed in under the cabinet on the left. The tub also had no built in storage- meaning all my products ended up lined up on the edge there.
Yes, it's a double entry. The pocket door goes to our master, and the normal door goes to the upstairs hallway. Yes, please don't judge- but that is a pile of dirty laundry behind the door. It always ended up there because I would roll out of bed and into the bathroom to shower and...I'm to lazy to walk back into my bathroom to strip. That's really the long and the short of it. As you can kind of see we had an over-the-door hook thing sitting on the door to try and give us a bit more space but it never really sit straight and would impede the door from fully closing.
Now, beyond the storage and space issues in this bathroom there was the physical condition of it. Flat. Paint. Who paints a bathroom with flat paint?! Apparently the developer of this house, because it was abundantly clear that this room- like every other room in the house- hadn't been painted 12 years. And I'm starting to realize after painting every door in this house that they were hung with possibly one thin coat of flat paint, if that. So yellowed, so scared, so ugly.
So that's what I was working with- and after living with it for a year I was completely over it. I knew if I left it till after my baby boy shows up in two months it would never get done, and it would only get more cluttered once we introduced baby paraphernalia.
First things first- I pulled out that recessed cabinet in a flurry of pregnancy hormones and frustration one day. It was only being held in by four screws and once out I was happy to see it had been properly framed. The hole was rough, but after consulting with my Mom I had a plan of attack. I measured the dimensions of the back and the sides and marched off to Lowes in search of nice plywood I could get cut down. I found a 7$ sheet that all my cuts would fit on and a very helpful Lowes employee cut the boards to my dimensions. It should be noted that the Lowes board cutter is not for super specific cuts- but I wasn't worried about it being off by 1/4 of an inch because it was all going to be getting painted out the same white as the trim so I could compensate for imperfect cuts with my old friend paintable caulk.
Since all that was along the back of the recess was drywall I couldn't put nails through the back and just glued it in with No More Nails. The sides were done with both No More Nails and finishing nails to keep them tight. Once everything was in I caulked the heck out of it!
Since I ensured the sides were level with the drywall all I had to do was backfill the gap between the boards and the drywall with drywall compound- which took three coats, sanded in between. Once it was smooth and you couldn't tell there'd ever been a gap there I painted the WHOLE BATHROOM. But I'll talk more about that in my next post. As you can see I used cove moulding to make the supports for my shelf, again held in with No More Nails and finishing nails to ensure the shelf could hold some good weight. I very scientifically chose the height of the shelf by placing my can of hairspray in the recess and using Hubs' laser level to determine where it needed to rest. The whole point of this recess was to get the products I use every day up off the counter- so it was imperative that I could fit all my stuff without having to fight with it or it'd end up right back on the counter. Cause I'll admit it- I'm LAZY.
And this is what that wall looks like now! The inside of the recess is painted out the same white as the trim- crisp and clean. I've installed a magnetic strip below it to hold bobby pins and tweezers and such. An extendable makeup mirror from Ikea fits between the doorway and the shelves- which gets my old makeup mirror out of the lower cabinet. The bar below is from Ikea, as is the little cup hanging off it- which holds my Clarisonic brush, toothbrush, and toothpaste. My hairdryer caddy is also currently hanging off the bar but I'll show you soon what we're doing so that it can live in the cabinet below, corral the cords, and I can add another Ikea cup or two for *gasp* my husband's and baby's supplies!
Which means that this wall went from being useless, and my counter being so cluttered you couldn't even see it- to holding absolutely everything that was clogging the countertop in an organized and accessible manner. It's the ultimate in a place for everything and everything in it's place!
I can't tell you how much better I feel not starting my day walking into all that clutter. And wait till you see how much more storage I added, and it still feels bigger than it did before! I promise not to leave you hanging again!